HOW DO YOU GET THE RIGHT INSERTS AND OTHER DISTRIBUTIONS RELIABLY AND PUNCTUALLY INTO YOUR LETTERBOX?
A difficult challenge. One that you face every day. In order to do your job as well as possible, you would prefer to look over the shoulder of every single delivery driver personally. That's not possible, of course, but how would it be if every driver and every delivery person gave you their status individually and you could keep an eye on everything at the touch of a button?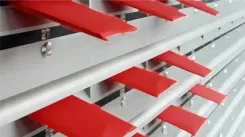 QUALITY MANAGEMENT
With our control centre or VQS-Online, you always have an overview of your logistics. The respective status in the delivery area is displayed live on a detailed map. Thanks to the open interfaces and extension modules, far-reaching solutions can be implemented which, for example, also make the delivery status, delays, etc. available to subscriber support or complaints processing.
Your advantages: On the one hand, you can see on a map view at any time whether the delivery in your districts is on schedule or in which sections there are problems. And you can act in good time in the event of delays: If, for example, a delivery person does not report on time, you can arrange for a replacement. You can intervene early enough in the event of problems with the delivery or communicate immediately in response to a late delivery. No additional hardware or software is required for this, your low monthly usage fees are fairly based on your delivery districts.
COMPLAINTS MANAGEMENT
And if problems do occur, it is best to process a complaint quickly and satisfactorily. We have also thought about this topic. With a fully automated complaint management system, no "Please call me back" notes are left lying around and every delivery person knows what they have to do. After the complaint has been registered, it can be determined immediately which delivery agent is responsible and whether there were any problems on the tour. A fully automated reply is sent to the customer and at the same time a message is sent to the distribution list. In this way, complaints are processed promptly to show the customer: "We take your complaint seriously!
MEDIA PLANNING
Because bigger is not always better: fine-scale planning is often required. With our Dataprotal you have microgeographical data at your disposal. This allows you to quickly and clearly prepare even small-scale offers. Simply select features and areas and in a few minutes the planning is complete. Your advantages: With a small-scale branch distribution you can create customised offers for your customers, you save a lot of time and present the offers professionally with a clear map view. This results in clear and calculable planning for you.
PLANNING AND OPTIMISATION OF DISTRIBUTION AREAS
We find "sneak routes": Sometimes it happens to all of us: a route looks completely different on the map than when you are actually there. Your distributors also experience this and they know their personal "sneak paths". Especially when you are on foot, you can take certain shortcuts that cannot be found on any map. With us they are. To plan and optimise your districts, you can enter shortcuts and immediately see how this changes your capacities. And as industry professionals, we also have solutions for many other improvements to individual areas. Talk to us.
NETWORKING WANTED?
If important systems in your company do not mesh, we can create suitable connections and ensure efficient workflows and time savings for you. After more than 10 years in business, we have a lot of experience and sensitivity for optimal processes. We are happy to advise you individually so that you can concentrate on the essentials.